Last time France FUMYTECH produced CYCLON RDA which brought extraordinary response from vapers, well famous for its large cloud. Now FUMYTECH brought WINDFORCE RTA, a new RTA for cloud chaser.
The front of package looks good with large size. It is more like a gift box.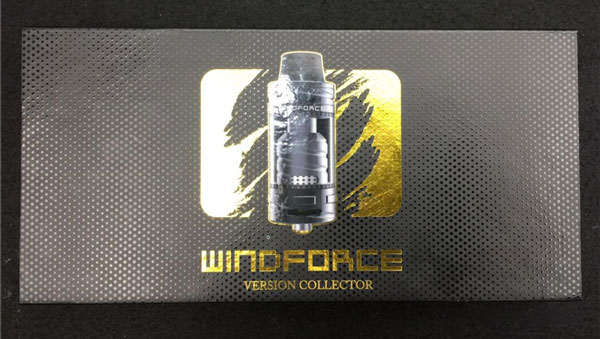 From the back of package, we can get some basic information. This RTA is made from stainless steel and features 25m diameter, 4ml or 4.5ml e-liquid capacity. From the appearance, it would be a great choice when used with box mod.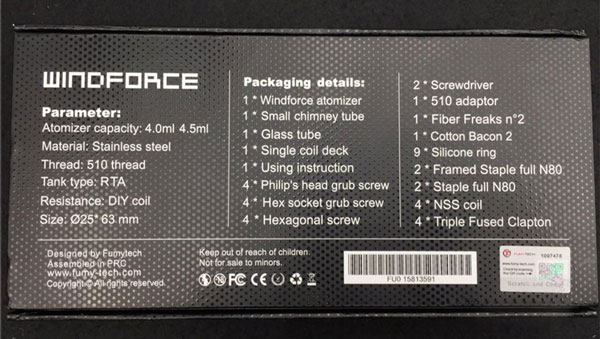 Take the package off, there are so many accessories like one replacement glass tube, one single coil deck, one 510 adapter, two screwdrivers, one cotton bacon, one fiber freak, one chimney tube, four kinds of heating wires, user manual, some screws and o-rings. These must be the richest accessories with good quality I've ever met.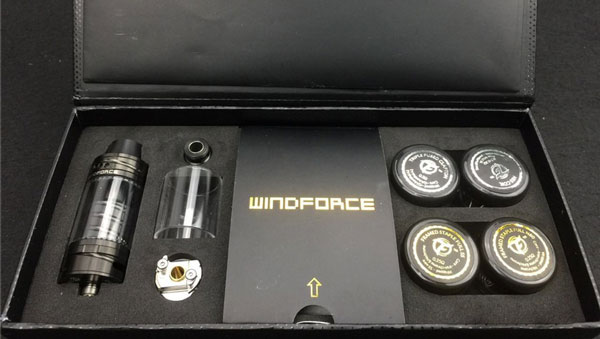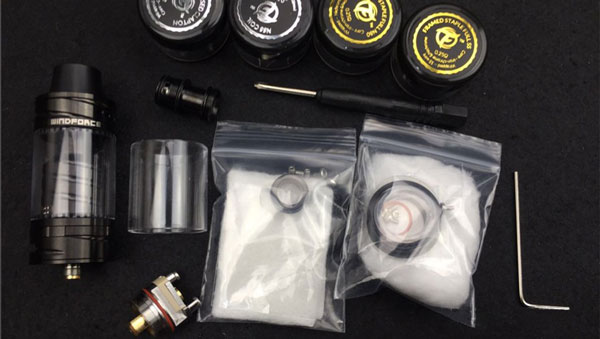 The center pin comes with gold plating. Each RTA is distinguished by an unique number.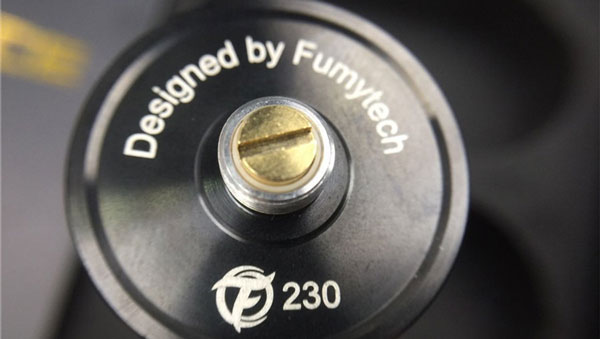 The center pin is connected stably with RBA base by one gold-plated screw which can absolutely avoid poor connection.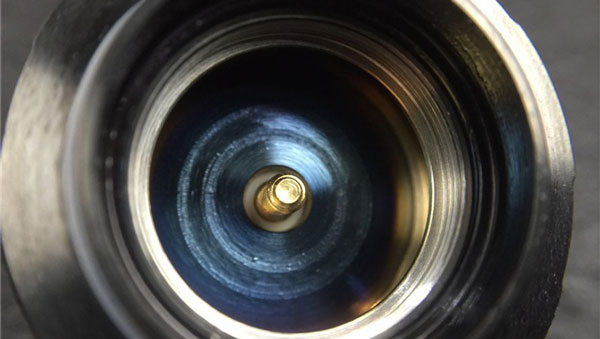 The dual-pole deck features with the  "velocity" post design. It can perfectly match the four types of heating wires come along in the package.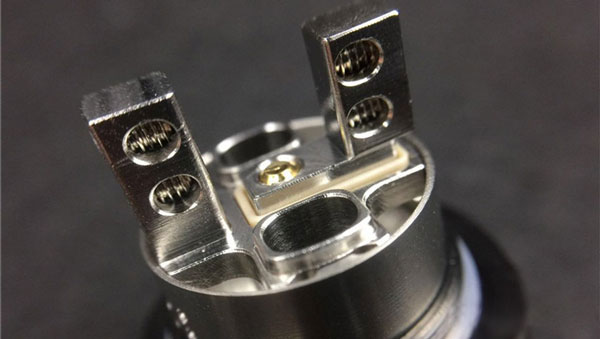 And the single coil deck can also match the wires perfectly.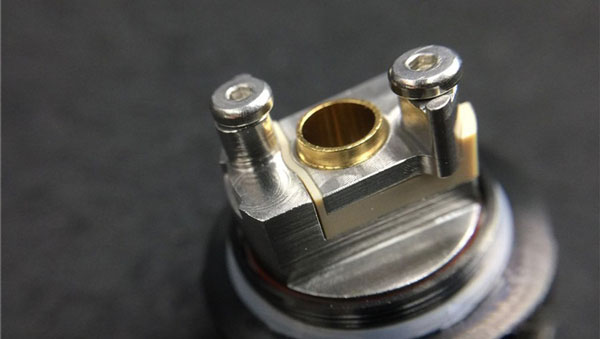 To gather the cloud and enhance the taste, we can use single base with the single air chimney. What's more, a 510 threading connection is also advisable when using single coil, small drip tip will help get a bigger cloud and better taste. Also there's a bigger chimney for velocity dual post deck. You can use whatever you want for your coil building.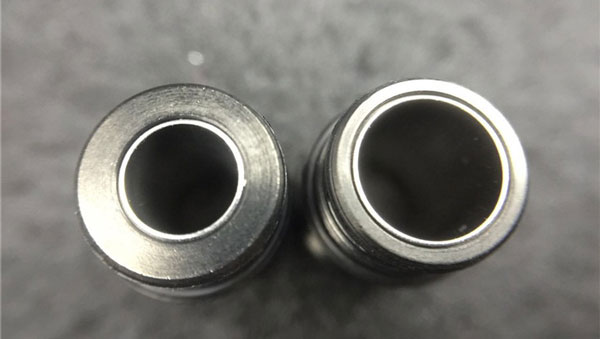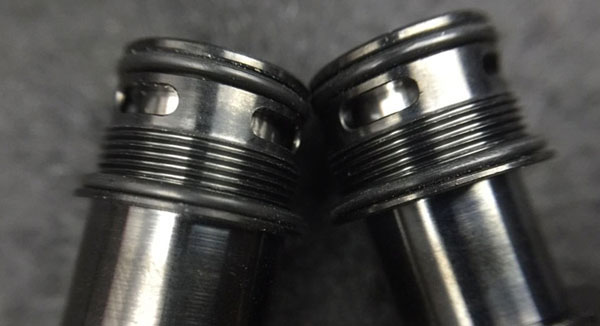 The following picture shows the four types of pre-coiled heating wires.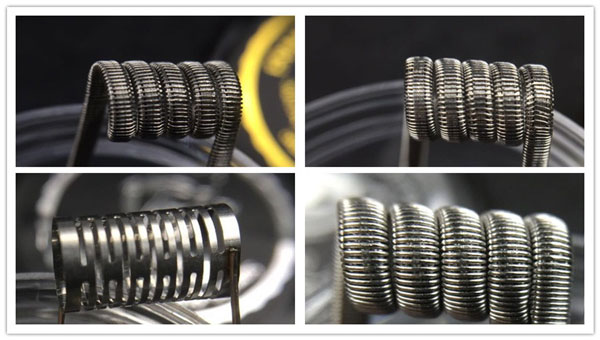 In conclusion, the Fumytech WindForce RTA brings huge cloud for dual coil build and great flavor for single coil.
This RTA comes with 25mm diameter,  personally it will looks better on a box mod. Here we have it on the scndrl style brass mech mod.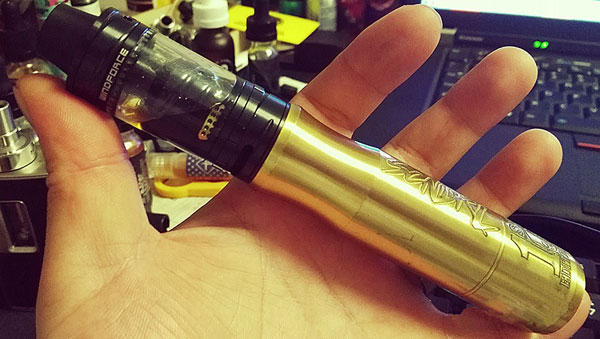 This review is original posted on VPBUS in Chinese.
Can't wait to buy one, get this Fumytech WindForce RTA on 3FVAPE. And use coupon code: MAP11357 to get a 28% off, the final price is $52.55.
SHARING
FOLLOW US