In my view, chasing a high quality and exquisite Atomizer is usually most of MTL vapors' dream. But, it is diffcult for us to find a really nice MTL RTA atomier until I come across "Limit" which is a MTL / DL RTA atomier from a Japanese vape company called KIZOKU who is used to well known for producing e-cig accessories like 510 atty stands and various drip tips. Maybe you will ask me why can the Limit RTA touch your heart? I think that you would find the answer after read my review.
Now, I will introduce a nice MTL RTA — KIZOKU Limit MTL / DL RTA Rebuildable Tank Vape Atomizer to you. Let's have a look at the overall of this RTA.
1. PACKAGE
At first, let us have a look at the package of Limit RTA, it is packed in a simple, smooth, and fashionable deep blue cardboard box reads KIZOKU and LIMIT, we can see the Limit even if we don't open this box, because it has a transparent window on the front. When I open this box, we can find that it contains a Limit atomizer, a spare glass tube, a tool bag (o-rings, t-shaped screwdriver, screws, cotton, Pre-built wire coils), User Manual, and Warranty Card.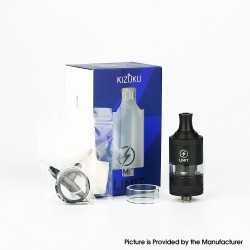 The Box includes:
1 x Limit Atomizer
1 x Tool Bag
1 x User Manual
1 x Warranty Card
The Specification of LIMIT RTA
Dimensions: 55.7 x 22mm
Weight: 47g
Tank Capacity: 3ml
Coil Type: Popular Stock Coil or Single Coil
2. APPERANCE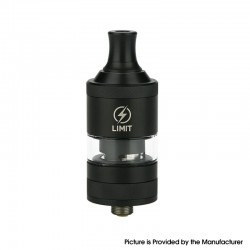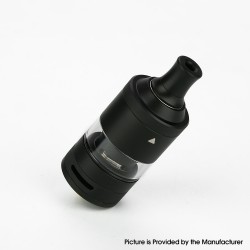 Take a glance the Limit RTA, we can see that it just a perfect standard Rebuildable Tank Atomizer. It is constructed from stainless steel with a matte finish, and it is also available in other color: Brushed-SS and Gunmetal, but I prefer black version in them because it has got a excellent silky finish to it. As for its specification, its length in about 55mm (including drip tip) and 22mm in diameter. Its size just like a traditional MTL RTA, but the length is longer than others.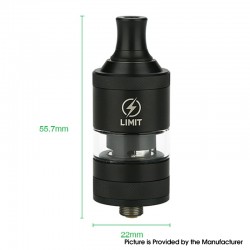 Then, it can hold 3ml of E-liquid. This capacity maybe not meet big vapors' daily needs, but it can meet the most except for me. At the bottom of the Limit, we can see the brand and a gold plated floating 510 pin to accommodate both the rebuildable deck and the disposable coils that can meet your different needs for DIY or install disposable coils.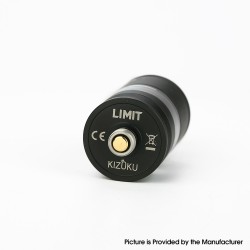 On the top of Limit RTA, it comes with a narrow bore Delrin 510 Drip Tip that is well fitted to mouth to lung (MTL) vaping. If you want to use other 510 drip tips, you can also change it as you like. When open the top cap, we can see it comes with a childproof top filling cap implemented in conjunction with a childproof locking system, and a sliding cover and a silicone membrane. If you want to fill it, you need to slide open the top cap and push your bottle tip through the membrane. Fill up, close it, and screw down the top cap. It is so convenient and fast. What's more, you don't worry that it will leak everywhere because it is has sturdy top cap and a nice leakproof system.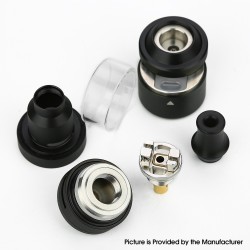 As for the RTA deck, it is equipped with dual slotted airflow control ring that delivers MTL and DL vaping options. There are two wicking slots and airflow hole under the coil which is about 2mm in diameter. If you want to change coil for Limit, you just need to unscrew the base of the atomizer, take your old coil from the base, and replace a new one. So, building the deck and wicking on the deck is very simple and convenient. Furthermore, it is worthy to say that the base is also compatible with Nautilus 2 Coil, so you can use Nautilus 2 Coils in it.
As for airflow control ring, there are 6 airflow holes on it, each hole is about 8mm in diameter, and also a single long slot, with stops at either extreme. Loose MTL vaping or restrictive DTL vaping, you can control and adjust it with your perferences.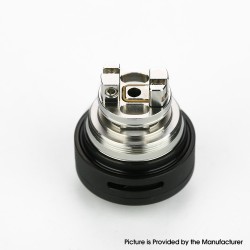 CONCLUDE
All in all, KIZOKU Limit MTL / DL RTA is a very solid and simple atomizer, especially the Black Version which is made from matte finish craft, fashionable and exquisite. This is a simple design concept and I like this concept very much.
And then, it is convenient that building and wicking this atomizer which save lots of time for us. The top filling system makes refilling become more easier and fast, and the leakproof system creates a good vaping experience.
Also, the childproof system can protect your children from dangers. Thus, it is well fit for a vapor beginner. I like its small airflow hole on the deck, because it can make you enjoy the MTL or DTL vaping better. I usually use it for DTL vaping with fully open the airflow hole, the feeling is so good for me. If you are a MTL or DTL vapor, this atomizer must be a good choice for you. You can not only use it for a loose MTL vaping, but also for a restrictive DTL vaping.
What's more, you can enjoy the DIY's fun by rebuilding and wicking this deck, or maybe you can try it on disposable coils you like. Though maybe you think that there are a lot of better options in the market, Limit is a good choice if you want to find a RTA that can rebuild the deck or use disposable coils.
If you are intrested in this RTA, you can click this link to know more about it:
SHARING
FOLLOW US