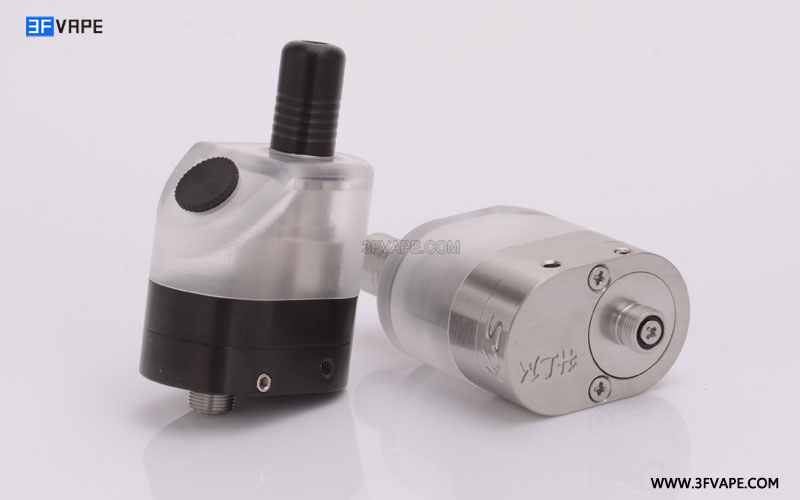 KS Tank style RTA is one of the rta that bring a great flavor and huge vapor.  It's easy to build your own coil on this RTA and personally recommend a 4-5 wraps of kanthal A1 30AWG Coil at aroud 3.0mm diameter. This also depends on the e-juice you use and different people may have different option of the coil build, so just test and find the one you like.
RS Tank style RTA now are available in black and silver on 3FVAPE. $20.99
Following is the unboxing of the RS Tank.

In the video, we put the tank on the Yiloong Trigger Mod, looks beautiful together.
This RS Tank features with 2 post, it's easy to build your coil on it.


There are several screws on this RS Tank. You can use allen key to adjust. 2 with one on each side near the center pin, just as the video shows, you use this to adjust the atomizer to fit your mod. And you can choose the position your tank on your mod.


Nearby there is a air hole, also using the screw to adjust the air hole size. Air hole is around 2.5mm serving as the air flow control system.
You can twist the drip tip to make more liquid in the coil juice well, i.e. you can control liquid flow by using the drip tip.
With a large 7ml capacity, this tank can be easily filled. Just screw out the juice thread cap and fill your liquid you like.
More specification about this tank:
| | |
| --- | --- |
| Material | 303 Stainless Steel |
| Posts Height | 9mm |
| Distance Between Posts | 8.5mm |
| Airflow Tube Height | 5mm |
| Chimney inside diameter | 4.6mm |
| Airflow Hole Diameter | 2.5mm |
SHARING
FOLLOW US