Auguse MTL/DTL V2 RTA is a Rebuildable Tank Atomizer with an airflow control system in three different positions, which meets both MTL and DTL vaping needs.
Auguse MTL/DTL V2 RTA is made of durable stainless steel and glass tube, 22mm in diameter, which can adapt to the airflow inserts of different apertures located in the build deck, and provides a pair of air disk options to unlock MTL and DTL style vaping. The standard 510 drip tip on the top is obviously a combination-metal + plastic (or glass). This RTA does have a maximum e-juice capacity of 3ml.
This Auguse V2 RTA comes with a threaded top fill system. By unplugging the drip tip, and then pushing the cover back to expose the filling hole, the filling can be done conveniently from above.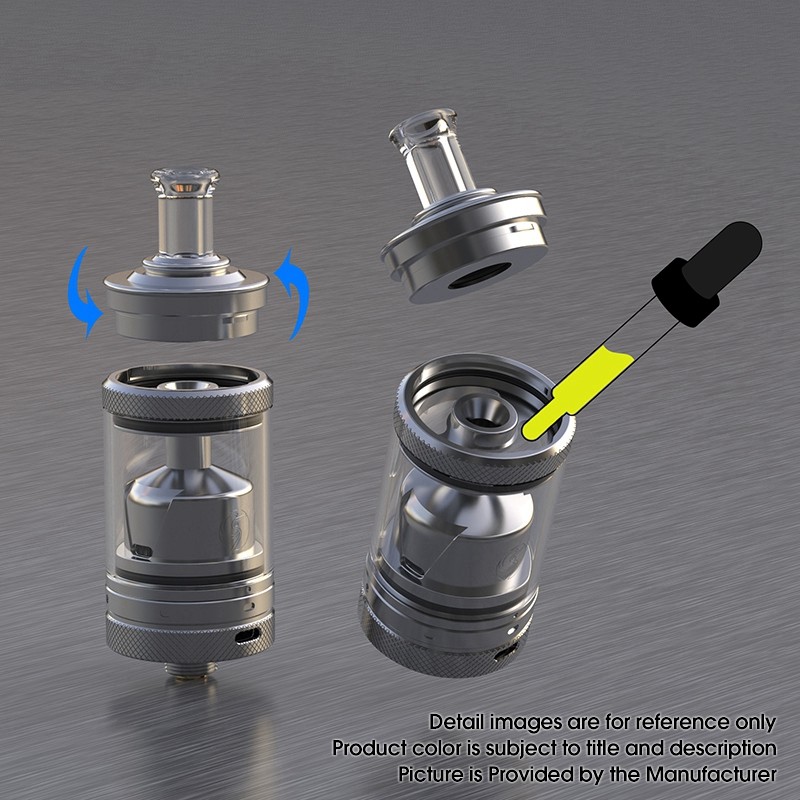 Auguse MTL/DTL V2 RTA adopts a double column construction deck for easy single coil building, affixing the screws from the top. The side of the build deck has a 30° angled entrance design and supports up to 14 different detachable AFC electrodes to replace, from 0.8mm diameter airflow hole to 2.0mm, covering almost all needs. Only a 1.2mm hole electrode is included in the standard package. In addition, under the Auguse MTL/DTL V2 RTA build deck is connected MTL air disk or DTL air disk with six air holes of different sizes. This gives you a wide variety of options when it comes to the draw, allowing you to fine-tune your vape. The slotted airflow control ring at the base can select one of six airflow options and pair with the MTL/DTL airflow turn disk makes this one of the most versatile tanks in terms of airflow.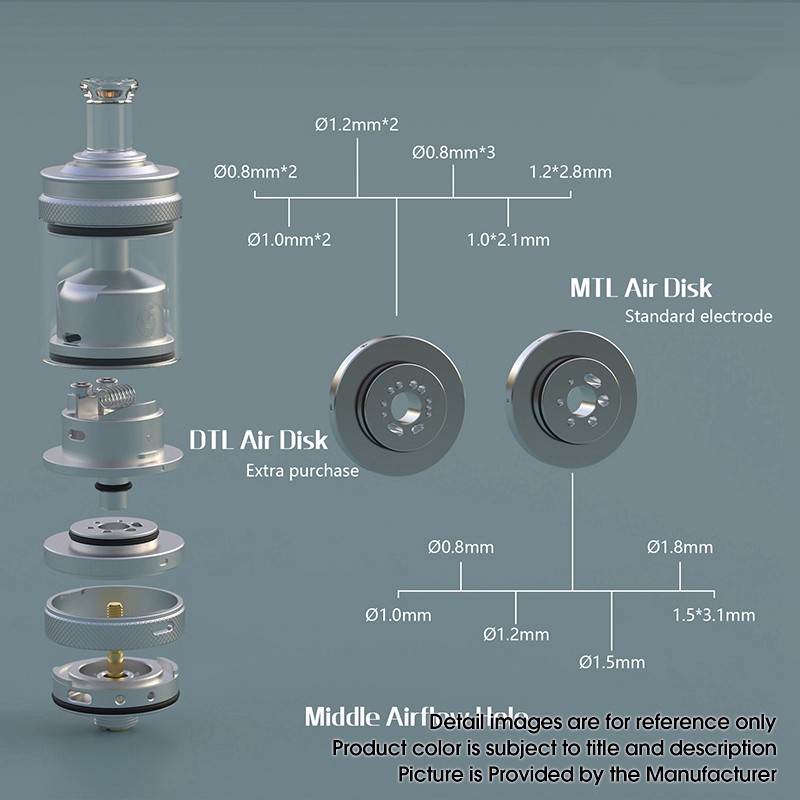 Features
Diameter: 22mm
Height: 53.1mm
Filling Method: Top Filling System
Material: SS + Glass tube Tank
Capacity: 3.0ml
Build deck: Double column construction deck
Airflow: Bottom adjustable airflow
Replaceable AFC electrode parameters (Only 1.2mm and 2.0 x 3.6mm Included)
Extra Purchase / Not Included:
0.8mm, 1.0mm, 1.4mm, 1.6mm, 1.8mm, 2.0mm, 0.8mm x 2, 0.8mm x 3, 1.0mm x 2, 1.2mm x 2, 1.5mm x 2
Standard electode / Included:
1.2mm
2.0 x 3.6mm
Join the Auguse MTL / DTL V2 RTA Giveaway  here >> Auguse MTL / DTL V2 RTA Giveaway
More product details, check the products below
SHARING
FOLLOW US