Today i'm going to introduce the Eamon lee Style RTA to you.
The Eamon lee Style RTA is constructed from stainless steel and glass tank with about 2ml capacity and 24mm diameter. This RTA is a single coil RTA for the best flavor. The airflow is coming down from below the deck centrally directly into the coil, which from above by the small holes immediately under the drip dip. The liquid is inserted from above and fed cotton from 2 holes on the sides of the chimney, chimney split into 3 with above the drip tip.
With built-in spring to lock the coil,try the spring: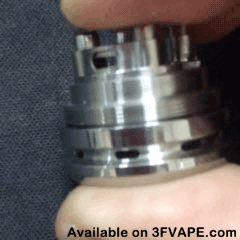 Eamon lee Style RTA Features:
510 threading connection;
304 stainless steel construction;
Glass tank, about 2ml capacity;
Bottom airflow control;
Removable drip tip;
Diameter: 24mm
Now 3FVape is holding a giveaway of the Eamon lee Style RTA,join the Eamon Lee Giveaway now >>>
If you can't wait to get one,buy it now with the following link,only $21.99!
SHARING
FOLLOW US