Giveaway >> A Disc-Shaped Starter Kit – Khree UFO 2 600mAh Pod System
Time: 00:00:00 Dec.30.2018  ~ 23:59:59 Jan.12.2019 (UTC-7, same time as Denver)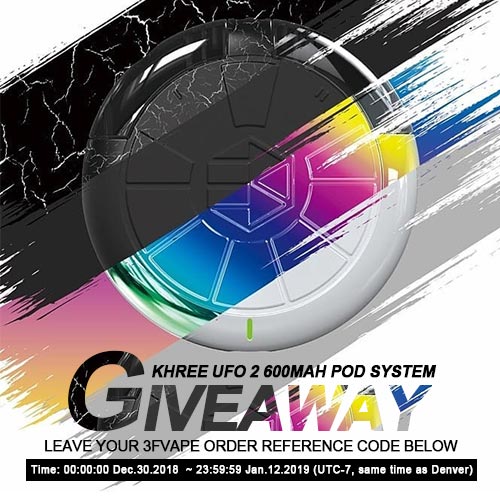 Leave your 3FVape order reference code on ins or facebook and tell us what you've bought.
We will pick one winner from customzers place order and leave comments these days.
Enter to win!!!
Facebook: https://www.facebook.com/3fvape/posts/1961297457281737
Instagram: https://www.instagram.com/p/BsAGlCOhHgl/
Good luck!
More Sale, Check: www.3fvape.com/49-sale
Price Drop, Check: www.3fvape.com/deal
Discount & Coupon, Check: www.3fvape.com/content/9-coupon-discount
3FVAPE Giveaway, Check: http://www.3fvape.com/content/14-giveaway
SHARING
FOLLOW US