Today we are going to look at the Pilot Vape Super ecig Tester. Pretty similar to the coil master 521 tab Burning Tab Master. It is a ohm meter, it can read resistance, it can read voltage drop, it works as a coil building deck and technically it can work as a mod. It's a pretty cool thing. Let's check this ecig tester out and get more information about it.
You can order this Pilot Vape Super ecig on 3FVAPE for $31.99, with coupon code "3FVAPEXmas" you can get a 5% off with $30.39 before 1/7/2016.
This coil burning tab tester comes in a compact box. The back side of the box shows some technical features of this ecig tester. It can measure the resistance from 0.01 to 9.99 ohm, and voltage from 0.3 to 9.99V.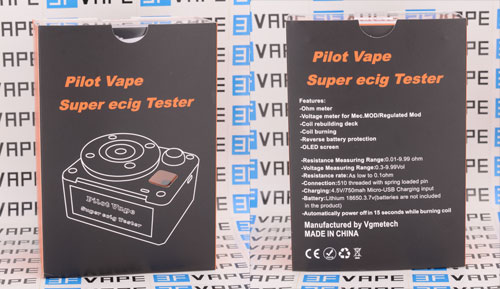 Open the box and shows the items in the package, the building deck, the voltage tester accessory, a pair of alligator clips, negative and positive, user manual, micro usb charging cable.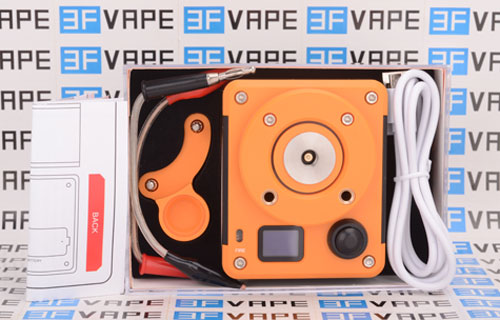 The body is plastic and 510 connector and all the other connections on this TAB is made of stainless steel. 510 connection and input jacks on the top, besides is the LED screen display and fireing button. Micro USB charging port on one side and power switch on the other.
This coil burning tab is powered by 1 x 18650 battery.  You can charge this tab via micro usb.  The USB cable doesn't work as passing through. It has a battery reveres protection on this tester, if you put your 18650 battery the wrong way and it will stop working.
We have a three way toggle switch on the side, if you press it to the 1 line this tab works as a ohm meter, while the 2-line with burning mod, or vaping mode and under this mode you can fire your coil.
The battery door is attached by magnet.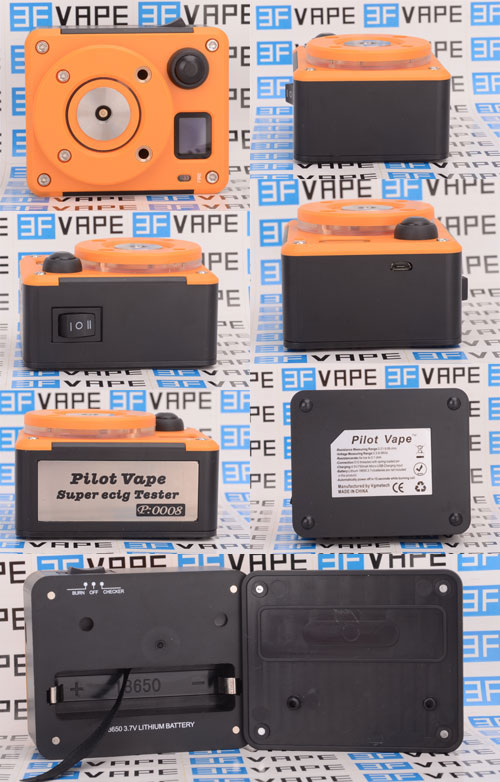 You can use this Pilot Vape Super ecig Tester coil master burning tab as a ohm meter.  When you switch the power switch to the single line part. You can notice a blue light LED indicator on the tab. It will shows the battery capaccity. If you put nothing on the tab, it shows none.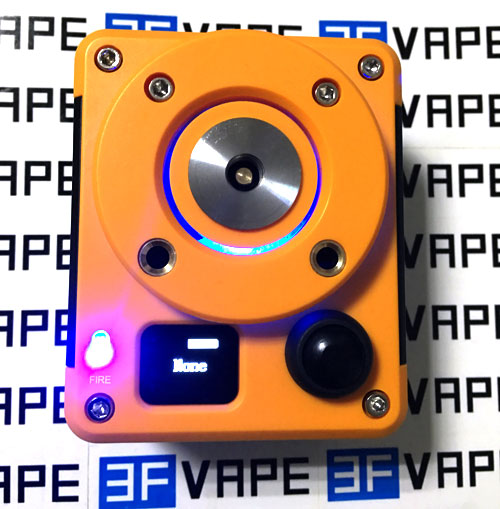 Put an atomizer on the tab and it can read the ohm of you atomizer.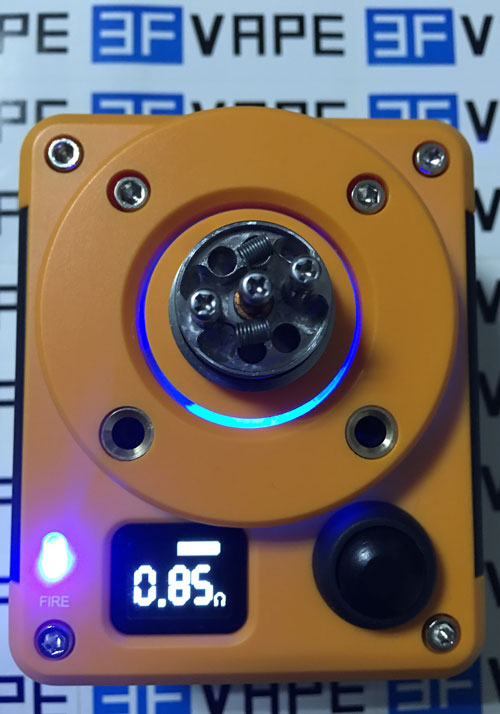 We have the same RDA on Smoktech TreeBox, Koopor Mini, Sigelei Fuchai and Joyethe evic Mini to read the resistance. Shows 0.87ohm, 0.85ohm, 0.81ohm, 0.87ohm on each mods. This ohm meter seems to be pretty accurate.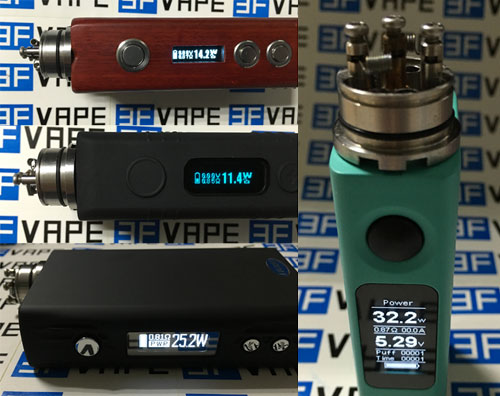 Put an empty rda on the tab and it will shows none. Switch the toggle switch to 2-line part.  and it goes to vape mode, it has a shortage protection, press the fire button and it will show check atomizer.  The fire indicator LED will turn red.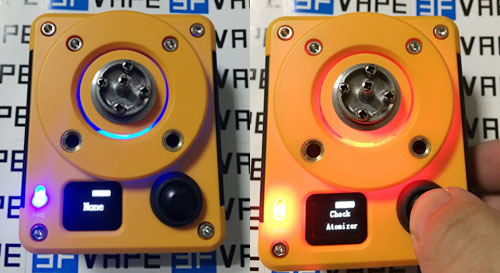 Screw a build RDA on and press the fire button. If can fire up and you can press the coil adjust the coil directly on the tab. It's very convenient when you are build your RDA, you don't need to unscrew it from the ohm meter to a mod, to adjust the coil, just press the button and you can adjust the coil directly on the tab. But if you are building a ni200 coil, this is not recommended.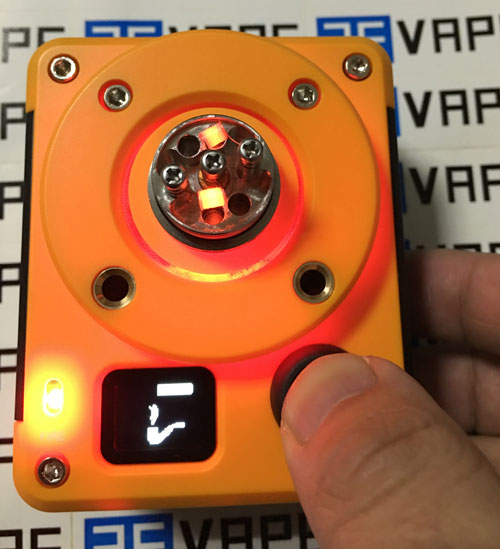 Change another RDA with coil and cotton to see. It fires. In fact, you can use this tab as a mod as it's already power by a 18650 battery.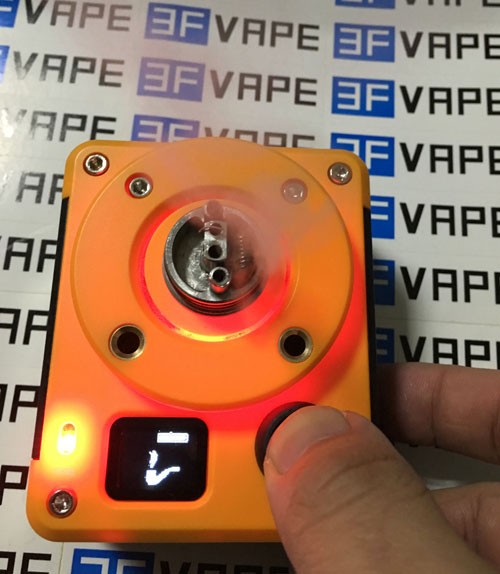 One more things you can do with this Pilot Vape ecig Tester is you can measure the voltage drop of your mod. What you need to do is connect the voltage checker part to the deck. Plug the 2 pins into the 2 jacks and you can attach your mod to it.
Note that hybrid top cap mod is not recommended to use on the tester as the 510 positive connector is not protruding from the negative connection parts, may cause shortage if you use a hybrid top cap mod on.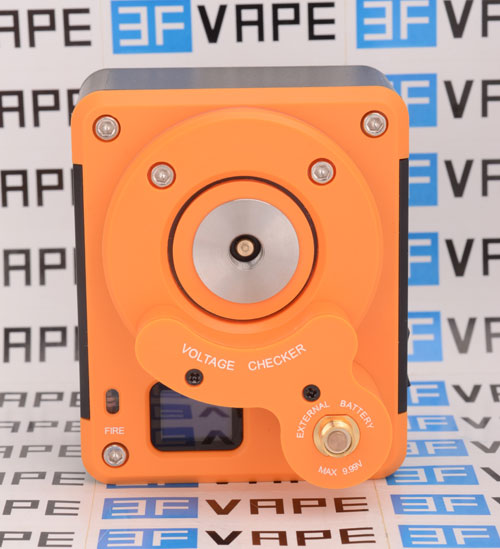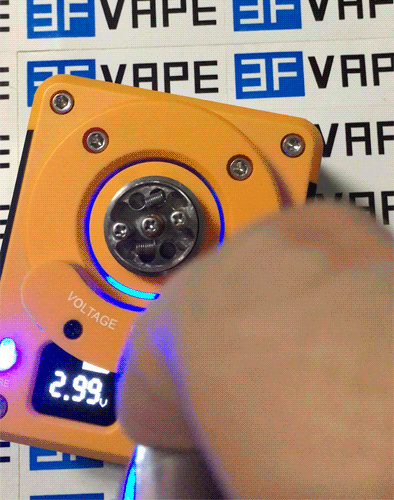 Another cool feature of this  Pilot Vape Super ecig Tester is that you can test the resistance of a single piece of coil or you winded coil.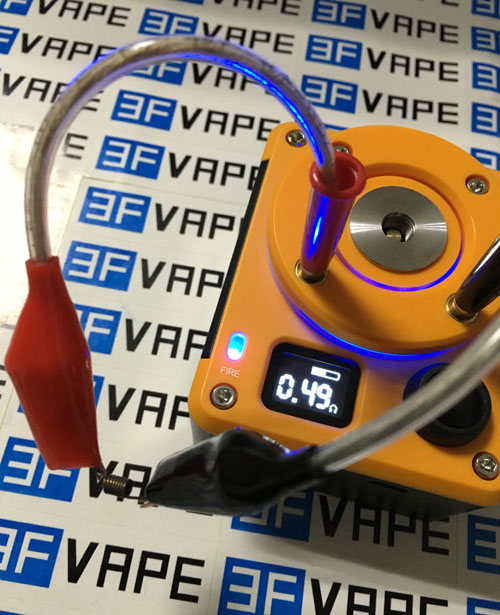 Well this ecig tester is really good for someone to build their RDAs on and test their RDA. let's have some conclusion of the pros and cons.
Pros:
1. All in one device with multi function, nice job;
2. Can be use as a mod, super cool to me;
3. Powered by single 18650, pretty friendly to many vapors and no need to get AA or AAA batteries;
4. Supports Micro USB charging;
5. LED indicator;
6. Battery reverse protection and shortage protection.
Cons:
1. The manual is too simple, if for a new beginner, may take time to know how this works;
2. The body is made of plastic, body build is strong, but afraid that will crash when drop from high;
3. The power switch illustrator message is hide in the battery door, you need to open the battery door to see what the switch functions.
4. The 510 connector of the voltage tester is not producing;
Would like to get on, check on 3FVPE:
SHARING
FOLLOW US