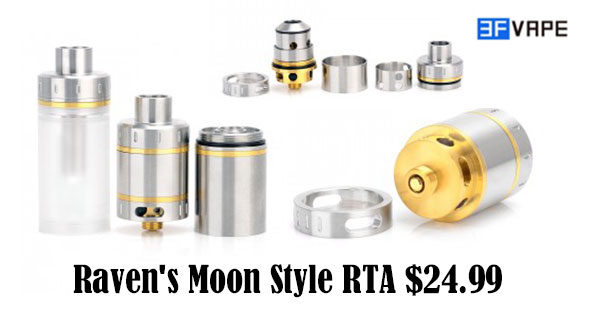 Today we are going to have a review on the Raven's moon Style RTA/RDA.
The Raven's Moon style RTA can be used in three ways. It comes with a 7ml tank made from PC for maximum e-liquid capacity, a 4ml tank made from stainless steel for something a bit stealthier, and a RDA top cap that you can use it as a normal RDA. This Raven's moon style RTA combines the unparalleled cloud production and  flavor of an atomizer with the convenience of a tank. What's more, this RTA features a stunning gold plated build deck.
P.S the original Raven's moon comes with a 7ml stainless steel tank while this style one comes with a PC 7mL tank. This tank can give you a more clear view of the ejuice, and it can remind you when you need to refill.
Time to break down for more details.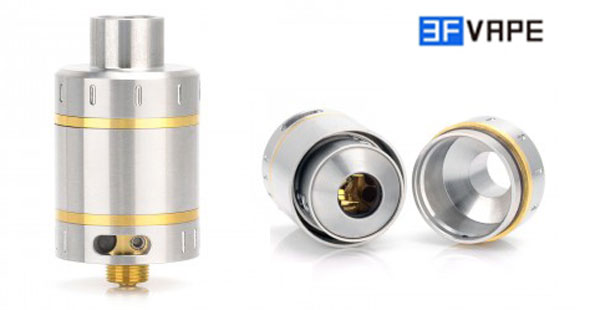 This RDA/RTA has a easy build velocity style post.  The air flow go directly under the coil. The air flow design is a little bit similar to the DIABLO STYLE RTA. You can build single coil and dual coil on. There are two soft plastic stick in the package, I think it's for single coil building. You can use it to block the air hole and avoid leaking while using as RTA. Know quite sure if I use it right. You can leave your ideas in the comments section.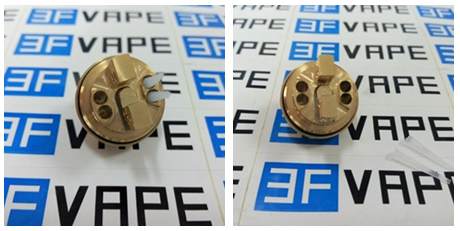 The following pics show wires builting. I built dual coil on. 22GA, 3mm diameter and 10 wraps. End up with 0.3ohm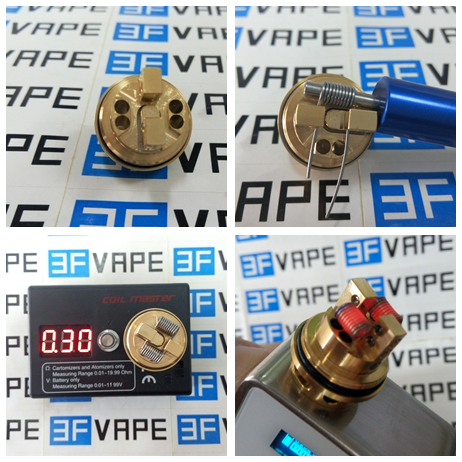 Screw the barrel and drop your favorite liquid. You can now enjoy it like most of your RDAs.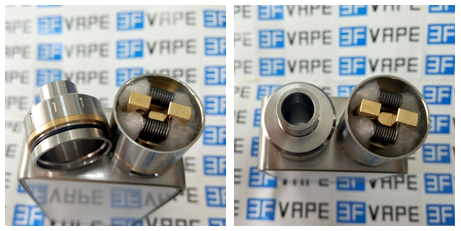 You can use the bottom air flow ring to adjust the air amount you like.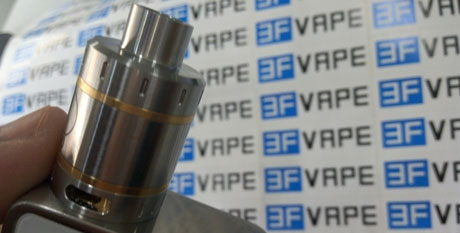 The drip tip is a bit short so you may feel hot when using. So a 510 drip tip will help. The drip tip of the raven's moon RTA is compatible with 510 drip tips, so you can connect your 510 drip tip on and get cooler cloud.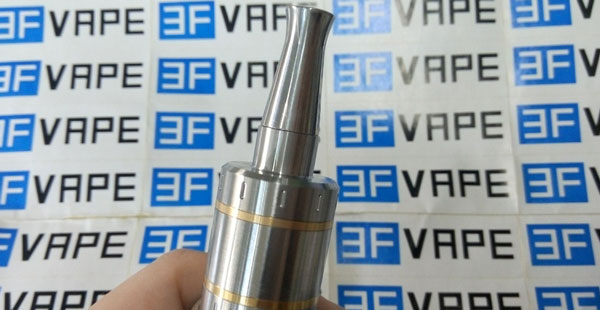 As we mentioned, This raven's moon can be used as RTA and it comes with 2 different capacity tanks. Following we will us it as RTA. Screw on the chimney and get the cotton through the oil hole.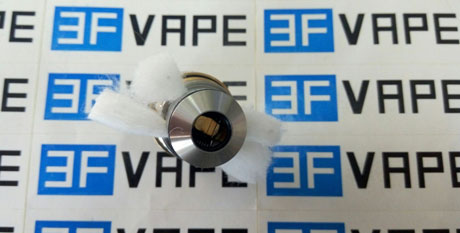 Cut and leave proper length of the coil. make sure the cotton is enough to block the oil hole. Just to avoid oil leaking.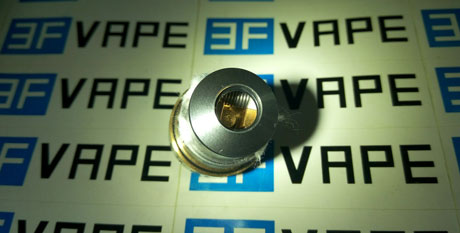 Screw the tank and top cap on. This RTA is a top filling RTA and you can easily fill the juice you like. Just remember to close the bottom air flow when filling, just to avoid laeking.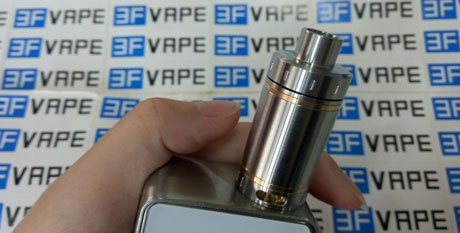 It's similar using the 7mL tank, so I just skipped it.
OK, this is the review of today, any questions, feel free to leave your comment. You can also tell us you like to use it as a RDA or RTA.  Personally like RDA better. huge cloud and good flavor. It takes me some time to build a proper cotton to avoid leaking for using as RTA. If you have any good suggestion of build this RTA, just feel free to leave your comments.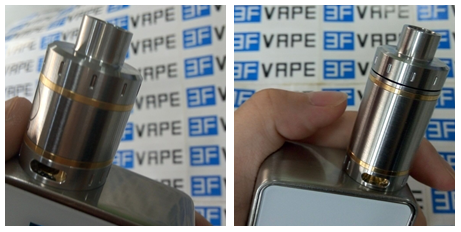 Following are main info of this Raven's Moon Style RTA:
Stainless Steel 4ml tank;
PC 7ml tank;
Stainless Steel atty cap;
Gold plated build deck and positive post;
2 hole dual post;
Post holes are 2mm for large gauge wire builds;
Can be built with dual or single coils;
Air and juice flow control;
Positive post sits below 510 for hybrid style mod;
Top and bottom filling.
If you are interested in this RTA, Just check 3FVAPE.com, now $24.99 available for free shipping.  The Raven's Moon style RTA is $24.99 on 3fvape.com.
SHARING
FOLLOW US