Today I am going to review the Uwell Crown Top Filling Sub Ohm tank.  This tank is made by Uwell, one new manufacture from China. But it can't stop this Uwell Crown Tank from being one of the best sub ohm tank in the market.
What is inside the Uwell Crown:

1 x Tank,
1 x Spare Quartz Glass,
3 x Coils (1 pre-installed),
1 x Set of Spare O-Rings,
1 x Instruction Manual;
Coil inside: 0.15 ohm (Ni200) / 0.5 ohm / 0.25 ohm (pre-installed)
The Crown Uwell looks very beautiful, it may reminds you of the SMOK VCT or Freemax Starre. Body parts of Crown Tank is made of stainless steel, it doesn't have any brand engraving on the surface of the body except the bottom part. Personally don't like any big branding on the body, this is good to me.  The construction is very steady, the drip tip doesn't wobble like the SMOK VCT. The drip tip of SMOK VCT A1 is not so stable and will wobble around the top. You are not going to have that problem on this Uwell Crown Tank.
The build quality of the crown tank is very good and the threading of it is easy to open and close. Easy to unscrew and screw, this feeling is good as you can easily take apart and build it up when you need filling or changing the coil. Or sometimes you need to clean the tank, it's easy.

You can see more from the following unboxing video
Size of the Tank
76mm tall and 24mm diameter.
Comparing with other tank, there is not much different in size between the crown tank and the freemax starre . Crown is a little bit taller than the Arctic, as crown has a 4.0ml capacity tank rather than the 3.0mL capacity of the Arctic tank, by the way they share the same hole (airhole) size on drip tip.  Well, personally think it with a little bit taller size than most tank, but almost not noticable.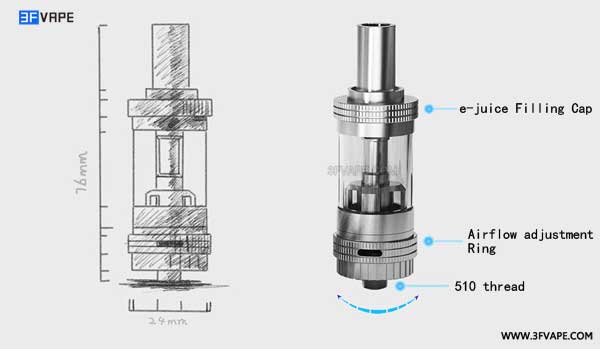 Coil of the Tank
Comes with 3 dual heating wire coils: 0.15 ohm (Ni200) / 0.5 ohm / 0.25 ohm (pre-installed)
Coil option: Single coil and dual coil available, 1.2 ohm (10~30W) for single coil; 0.25 ohm (80~120W), 0.5 ohm (30~80W) and Ni200 0.15 ohm (80~120W) for dual coil. All this coil can be found on 3FVAPE at $13.99 for 4PCS pack: http://www.3fvape.com/search?controller=search&orderby=position&orderway=desc&search_query=UWELL+CROWN
I will recommend to vape at around 15-22W for 1.2ohm single coil and it brings warm and large cloud. 70W to 80W for dual coil 0.5ohm will bring you a good flavor and not higher output power recommended as the cloud will become so hot. And I will vape the 0.25 ohm coil at around 85 to 90W, thought 0.25ohm coil supports up to 120W, I didn't get that high power as I think 90W is enough for me to get a warm and good flavor cloud. 120W is OK but remember not to take a long hit as the vapor is hot. What's more, it's amazing that no burning taste when I tested under 120W.
Also a 0.15ohm Ni200 Coil for Uwell Crown is available, with this coil, you can use Uwell Crown with Temperature Control Mods, it works with 80~120W / 150~350 Degree Centigrade.
There is a RBA deck for Uwell Crown coming soon. Will update if it's listed on 3FVAPE.
Decent Top Filling Design
It's really adorable that you can fill the Uwell Crown from the top, it makes things easier for e-juice refilling. Just easily take off the top can and then refill, this helps prevent oil coming out which will happen on other tank when you unscrew the bottom base.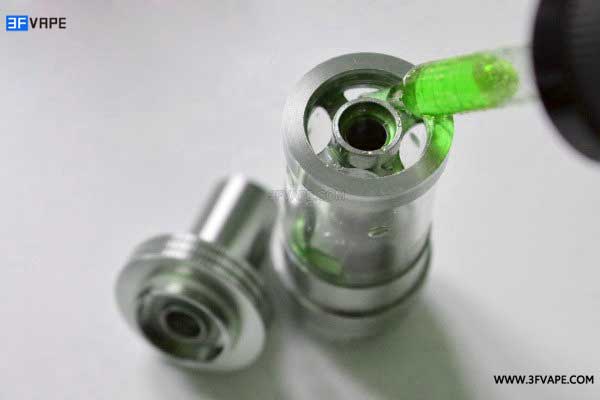 Airflow System
This Uwell Crown comes with nice airflow control system. With 2 holes on either side of the tank, just similar to the Kanger Subtank Mini but with bigger hole , when turning the airflow ring, it clicks very lightly and you can adjust to the right position for the air-hole you want easily.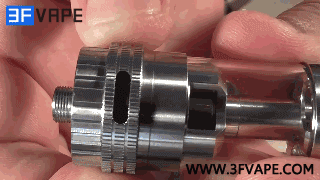 Buy it now on 3FVAPE at only $25.99
Coil Option
SHARING
FOLLOW US