Today let me expressly recommend a new version of Target vtc 75w vw mod + ceramic ccell coil tank starter kit by Vaporesso. This one gives me the deep impression of creative designer, good taste and huge vapor, especially using ceramic material.
Let's talk about more details below.
First, open the box and we can see there is one Target tank with a 0.9 ohm cCELL Kanthal coil pre-installed, oneTarget 75W box mod, one Extra replacement Ni200 cCELL coil 0.2 ohm, one USB cable for charging, one English user manual.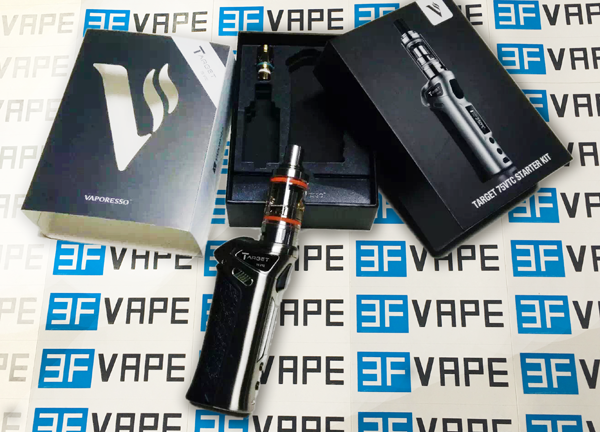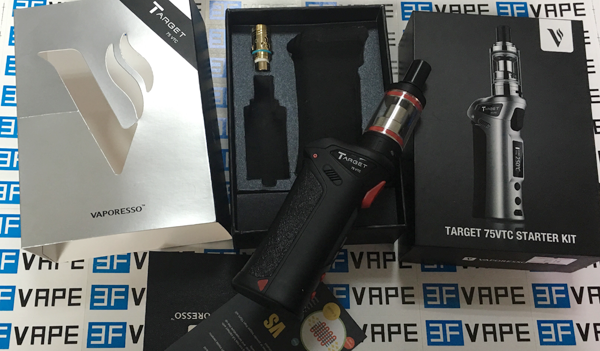 At the first sight, I see it as a handgun. It's so cool looking . Good touching feeling in the hand. Not like other box mods, this target 75W has a gun pistol design, feels comfortable to hold.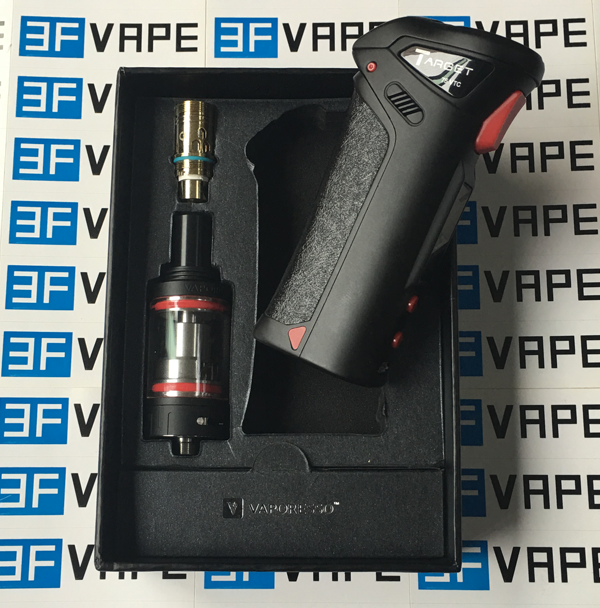 Let's look at the outlook of this mod, the trigger style fire button, OLED display, control button and the micro USB port. It has battery cooling hole under the battery capsule. It feels comfortable in the hand because of a textured grip. The threading is stainless steel, and has a spring loaded 510. There are some battery air vent holes on the bottom of the mod. On either side of the mod have also vent holes right above the battery cover.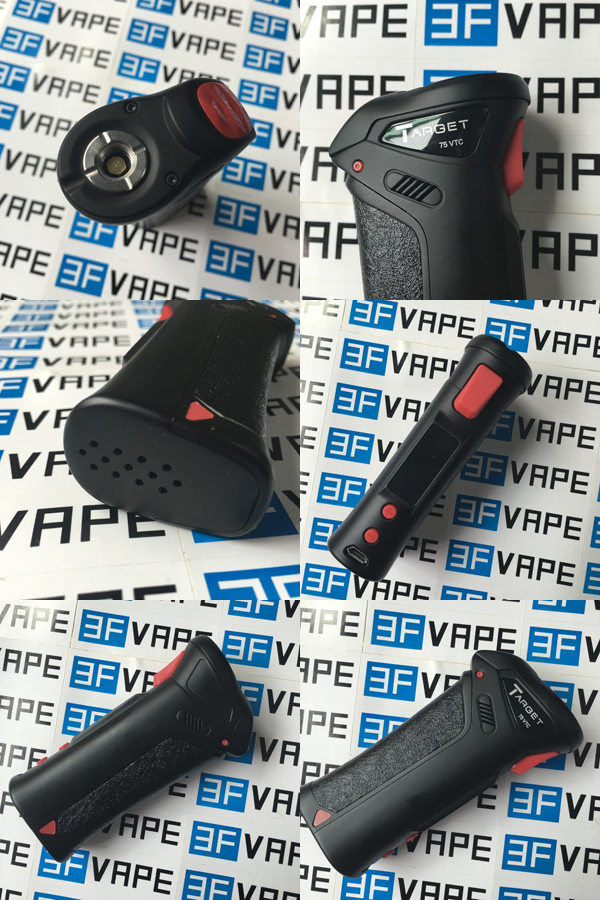 The battery has a tab on the top and holds the cover on tightly by the two strong magnets. So you don't worry it coming off while in use. It's a right way to get the cover off with the slight force.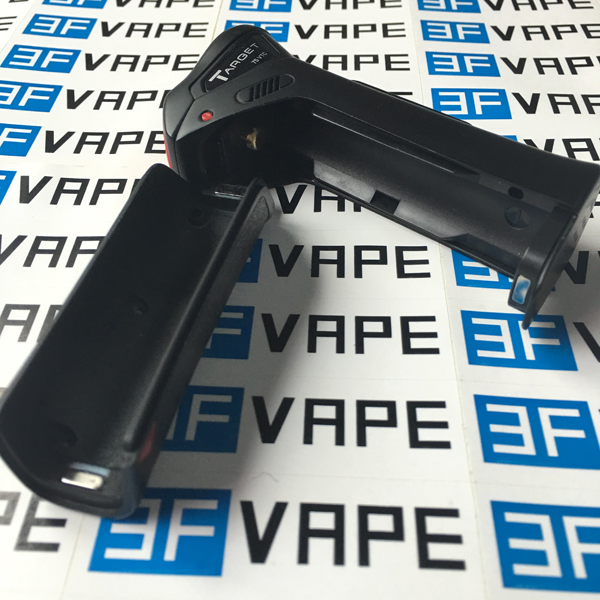 Five press the fire button and turn on the mod, showing the brand logo" Vaporesso". You can use temp control mode or wattage mode with this Traget 75W.  200 to 600 'F and 100 to 300 'C adjustable. Hold the +/- buttons togetter for 3 seconds and you can adjust from temp control mode to wattage mode, under which you can adjustable the wattage up to 75W. The nice and bright OLED display show us the battery meter, resistance ohms, wattage or temperature. If you want to rotate the screen display, you can fast click fire button 3 times.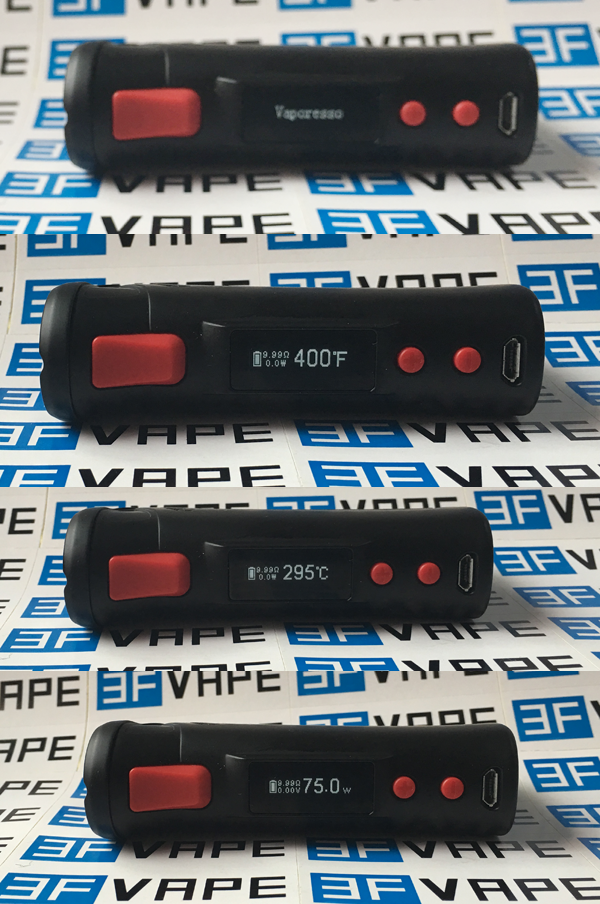 There are 2 coils in the kit. One 0.9ohm (20-35W) pre-installed in the Tank. One 0.2ohm Ni200 coilf for temp control. This is one of the innovation part of this temp control mod kit. The coil is made of ceramic surrounded with heating wire. This brings a more clean flavor for e-juice. May be more coil will be build this way in the future.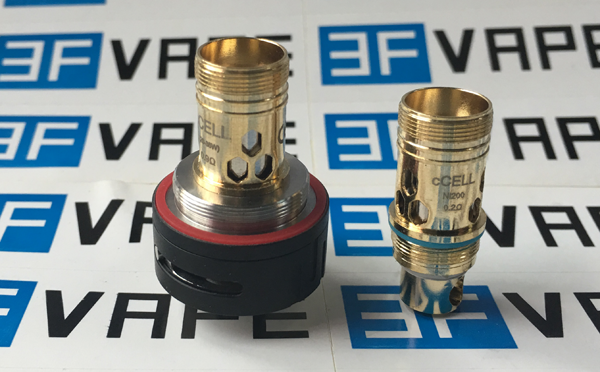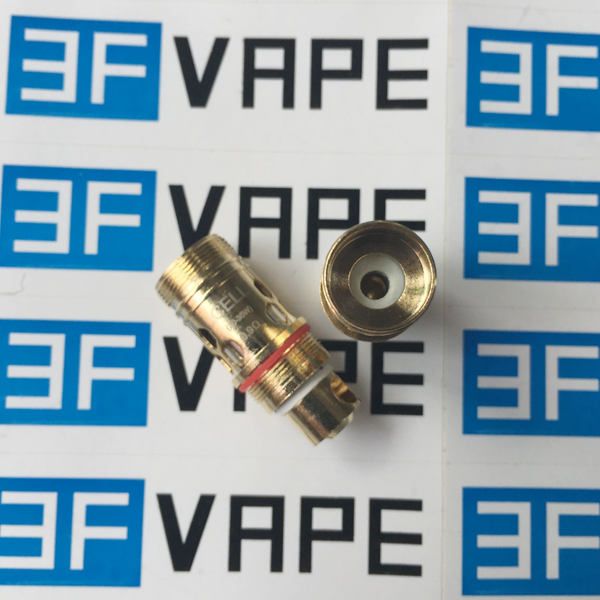 Let's have some conclusion of this Vaporesso Target VTC 75W + cCell Coil Tank Kit. Some pros and cons:
Pros:
1 Coll design and comfortable holding feel, convenient to use.
2 Clean flavor by cCell coil
3 Much more vapor then other coil
4 Battery door is tight fixed on the mod, no moving.
Cons:
1 The battery door is too tight to move, I took time to feagure out how to change battery. Just uplift the battery door a little bit, don't uplift too much then slide it down.
2 The 510 center pin of the cCell Coil Tank is not adjustable
3 If use the pre-installed 0.9ohm coil under 40W or up, may have a burning taste.  Would like to have bigger vapor but no other ohm choice.
If you want to get this Kit, you can have it on 3FVAPE with only $64.99. Black, silver and white available.
SHARING
FOLLOW US