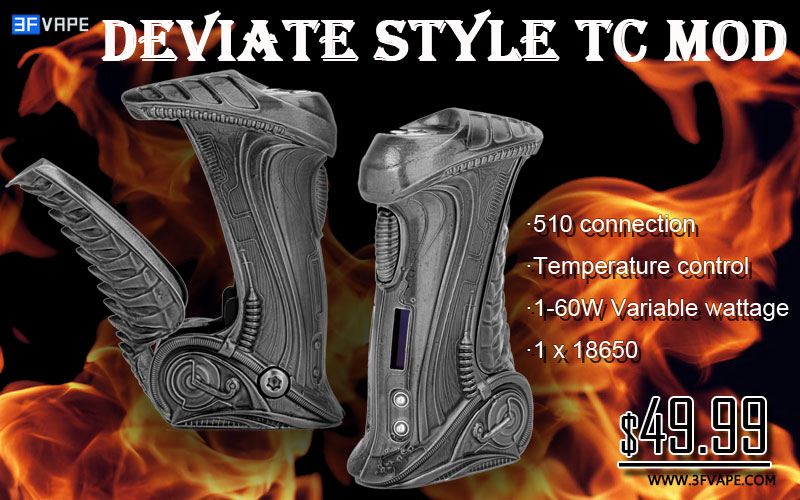 This Deviate style mod is outstanding among other mods as it has a charming appearance. Perfectly carving craft makes it one of the coolest looking mod to date. To match it's killing looks, the Deviate style 60W TC Mod house a stable 60W temperature control chipset with 1-60W output power setting and wonderful temperature control function. You can use NI200 coil low to 0.06ohm and it can work with 0.06~5 ohm (normal working) / 1ohm (standard load).
An easy to read LED screen on the grip displays the information including: wattage, voltage, battery power, atomizer resistance, and temperature setting. There are 2 buttons under the screen and an easy to press fire button on the back of the grip, making this mod very handy to operate. Made of zinc alloy, this mod is very well constructed and with good quality.
Pricing & Availability
The deviate style mod is now under pre-order, (http://www.3fvape.com/vv-vw-mod/4851-deviate-style-temperature-control-variable-wattage-vw-apv-mod-grey-zinc-alloy-160w-1-x-18650.html)and is scheduled to release at the 31th Aug and there is a possibility we can get it shipped at around 26th Aug or before. We will try to get it delivered as soon as possible.
For pre-order you can have it at a very low price $49.99. We will try to get it delivered as soon as possible. We will increase price when the product is dispatched. So order right now and get shipping first!
NEWS:
http://blog.3fvape.com/mod-apv/news-of-deviate-style-60w-tc-mod-2015813/
http://blog.3fvape.com/atomizer/news-of-deviate-style-60w-tc-mod-201591/
SHARING
FOLLOW US