SXK Nebula Temperature Control VW Box Mod, a new box mod which looks like the golden brick, made by one of the famous manufacture SXK, is now in stock. SXK Nebula comes with 2 version, SXK 50 and SXK 60, featuring temperature control, this mod can be a good choice for you.
Today we are going to do an unboxing of this SXK Nebula, we here introduce the SXK Nebula 50W one.
Here comes it: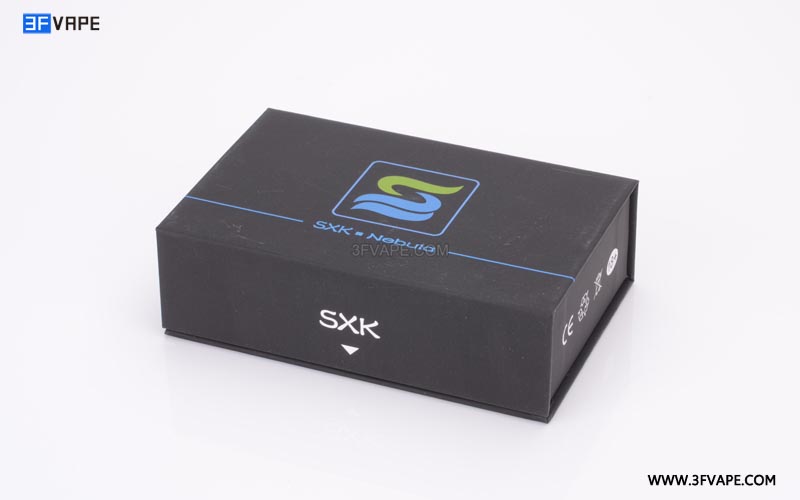 SXK Nebula, both the 50W and 60W comes in a box with "SXK" and "Nebula" logo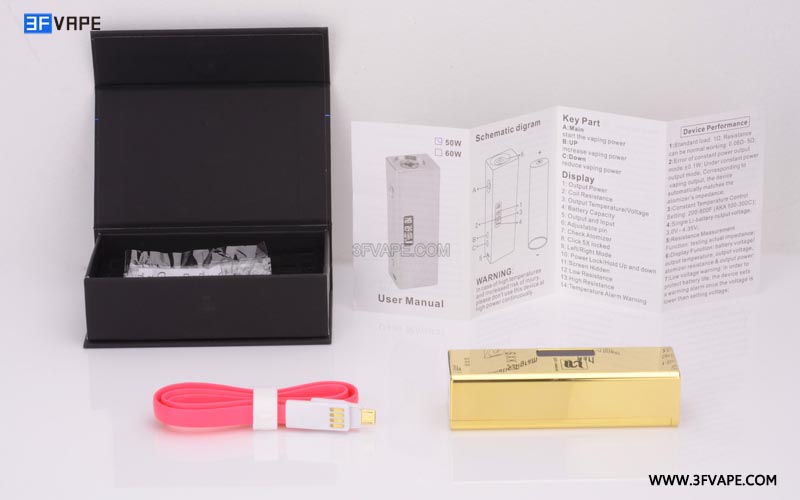 Open the box and let't see what's inside. A Nebula, a user manual, a usb charging cable. The usb cable may be in random color.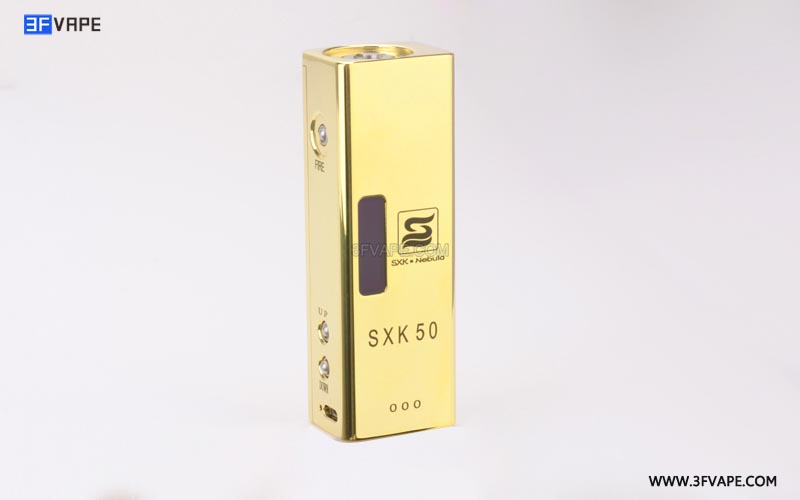 This golden brick looks beautiful both the front side and the back side. There's a LED screen on the front side, it will shows the wattage, voltage, resistance, temperature. Battery cover is screwed on the back side by two screws.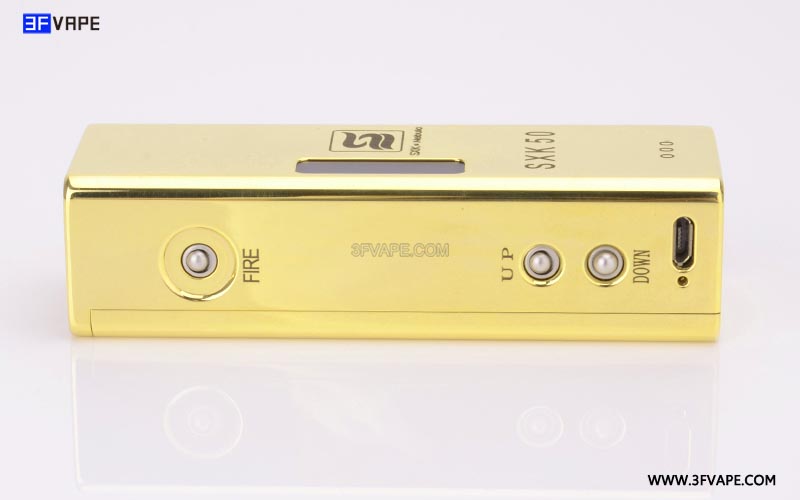 There are three buttons on SXK Nebula temperature control box mod. Fire button on top, and up/down buttons on bottom. There's a micro USB charging port under the down button. Don't know if it can be used for firmware update yet. Will update if any information.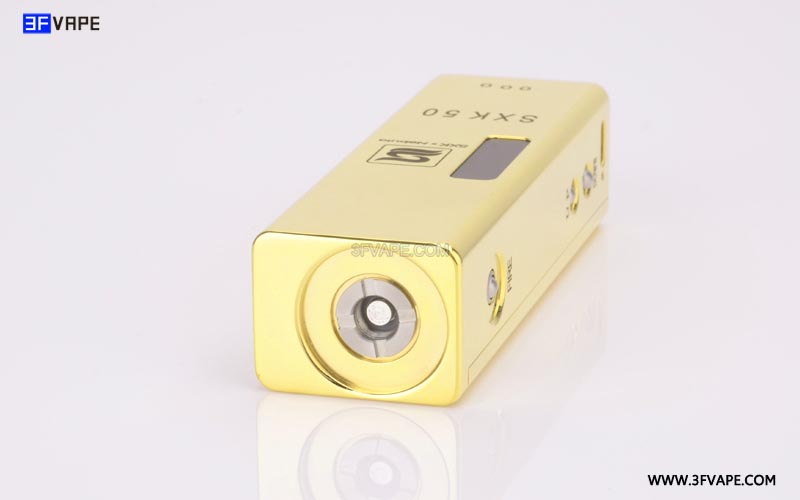 510 connector of SXK Nebula box mod, featuring a spring loaded center pin, fits different atomizer. The connector is made by stainless steel.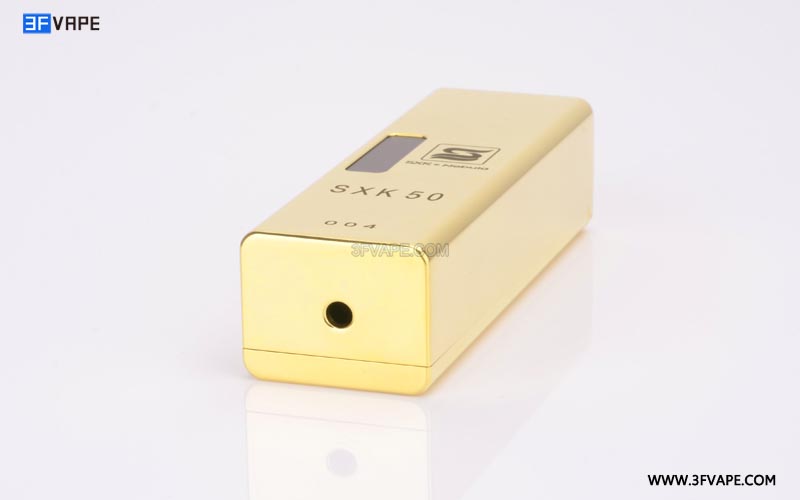 Battery cooling hole of the SXK Nebula.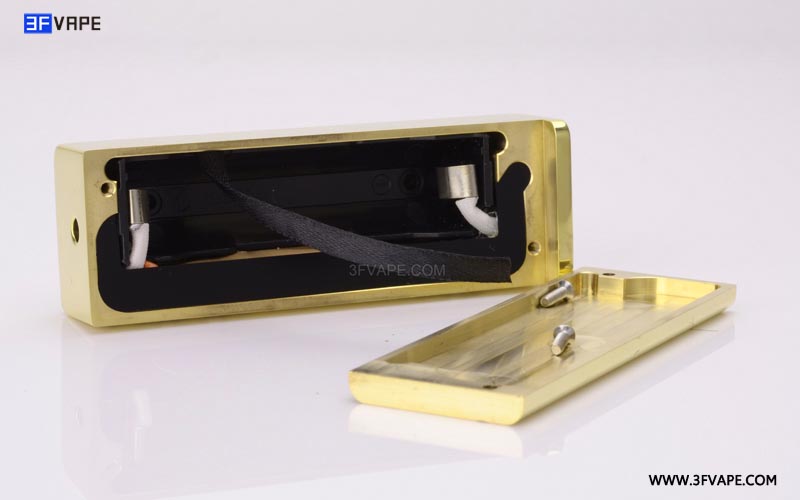 Battery capsule of SXK Nebula.
This temperature control box mod uses 1 x 18650 battery. Took out the screws to input/replace the battery.

Put in the battery and shows "SXK"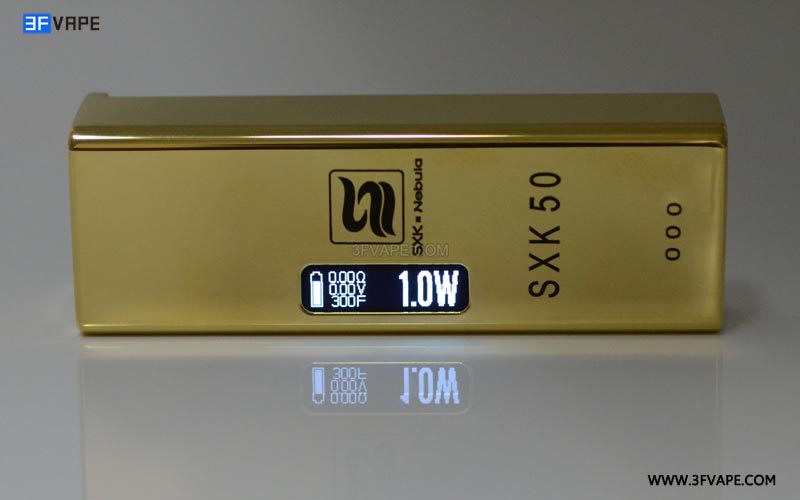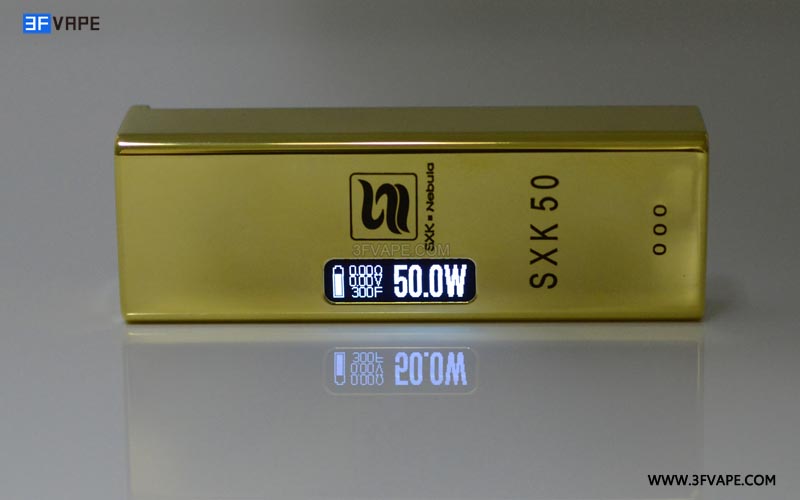 The LED screen show the output power, coil resistance, output voltage, output temperature and battery capacity of the mod.
The SXK Nebula 50W can be adjustable from 1W to 50W in 0.1W increments while the SXK Nebula 60W one can be adjustable from 1W to 60W in 0.1W increment.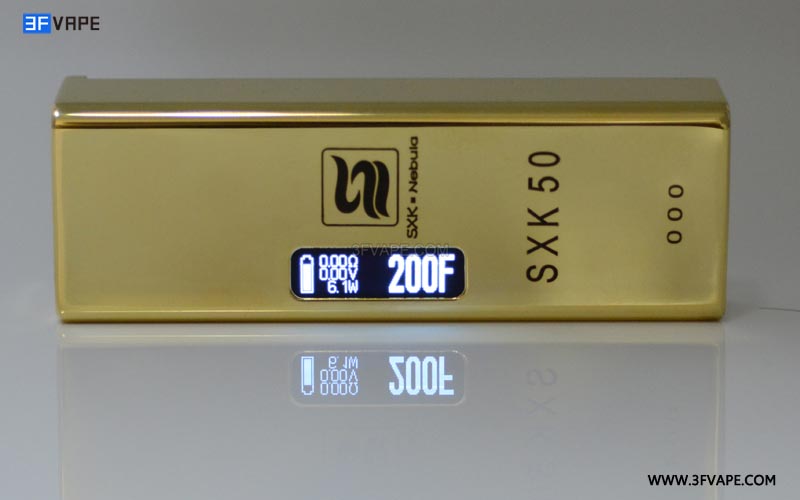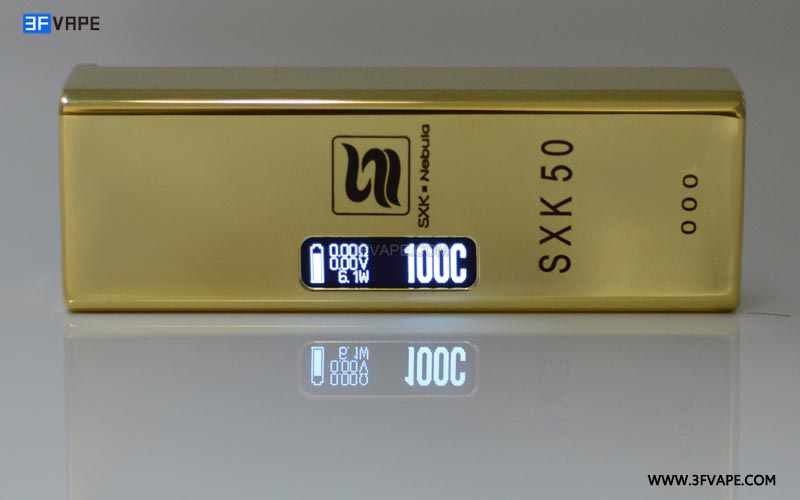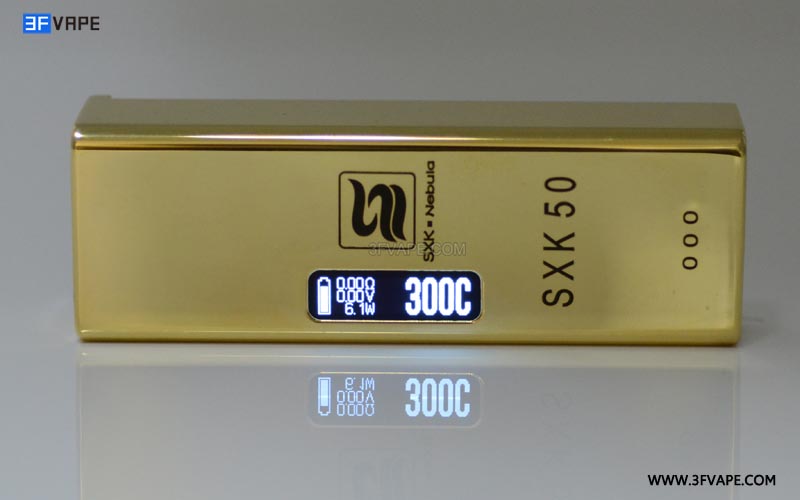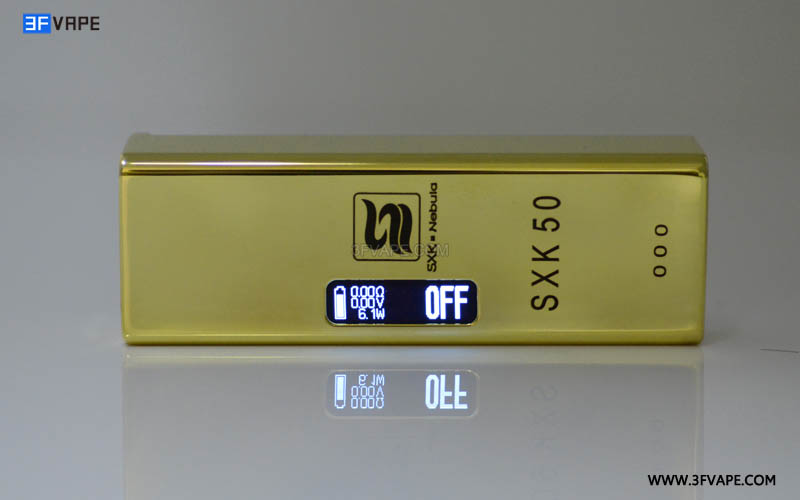 This box mod is a temperature control mod, you can adjust the output temperature from 200 to 600 fahrenheit degree or 100 to 300 centigrade degree.
Press 5 times fire button to the locked mode then hold up/down buttons for 3 seconds at the same time and will bring you to temperature setting mode, under this mode you can adjust the output temperature you want, 450F recommended. When you go to 600F or 100C, one click of up button will go to temperature control off, which means your mod will work as a normal mod without temperature control.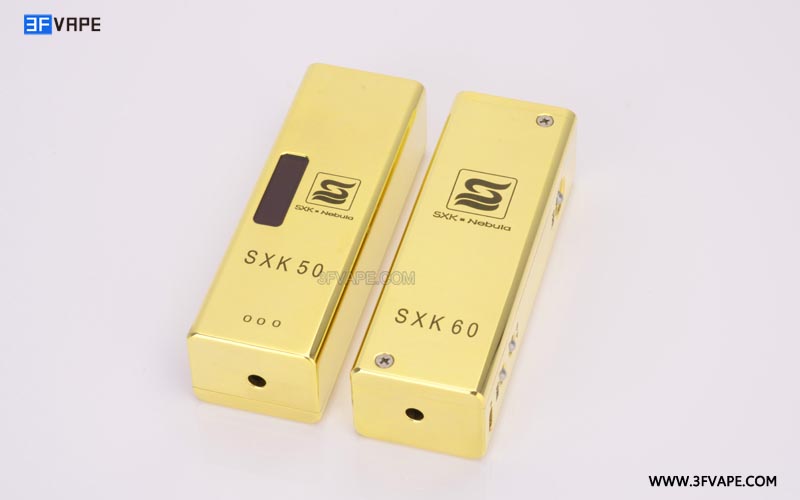 SXK Nebula Box Mod comes with 2 versions, the 50W and 60W, only featuring different power output. They comes in the same size and function the same.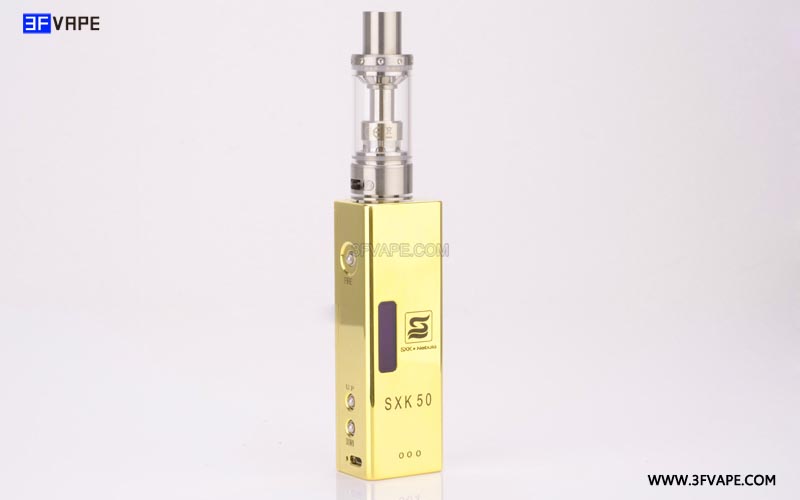 We put a Tesla Vortek TC Sub Tank, a temperature control atomizer tank, on the SXK Nebula. We have to say it looks really beautiful to put SXK Nebula and this kind of tank together. Aspire Atlantis, Kanger Subtank, SMOK VCT series can also be a good choice. As now we can found ni200 coil for Atlantis, ni200 OCC for Subtank and SMOK VCT Ni200 to made these tanks work with temperature control.
Also you can build your own coil using Ni200 wire on RDAs.
Here is today's unboxing of SXK Nebula. You can leave your comments here about the one you want us to do unboxing. Or if you have any question or advise, welcome to contact us, 3FVAPE is always here with you and let's enjoy vaping.
SHARING
FOLLOW US