Have you heard the the story behind the M-Atty? The creator Matt declares himself to be lazy and wants to make rebuilding as simple as possible, but not simpler. Today we are proud to get a chance to introduce the the new arrival on 3fvape.com Model 8539 M-Atty Style Atomizer W/ Pei 510 adapter and Model 8402 M-Atty Style Rda Atomizer on 3fvape.com.
Are they the same, but a few more accessories? If not, what's the difference?
Now, Let's take a look at them. The first distinction is the material of drip tip. Model 8402 comes with a PEI 510 drip tip adapter, a PEI 510 drip tip, a Pack of accessories. The Model 8539 comes with a PEI 510 drip tip adapter, a POM drip tip and a pack of accessories.
The following picture shows these 2 RDAs' drip tips, upper one is model 8402 and the other is model 8539.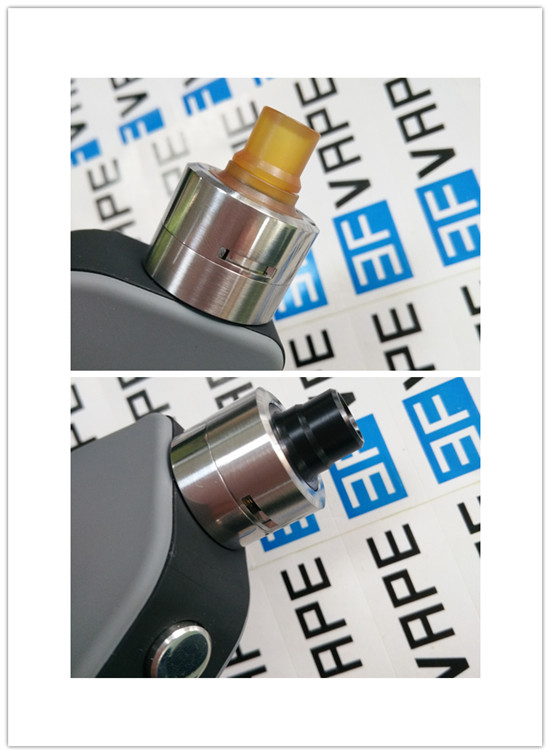 The RDA is constructed from 316 stainless steel. 2 air slots, 3.2mm equivalent Max, on the sleeve make airflow control adjustable. AFC in its widest position can give you options to let airflow laminar and turbulent to satisfy your different vaping experience.There are three air slots on the bell and the chamber size is approx. 17.5mm ID by 8mm tall.
This RDA comes with gold plated center post. Please note: the center pin is not adjustable, it is just used for post redesign. Oh, it's time to disassemble again.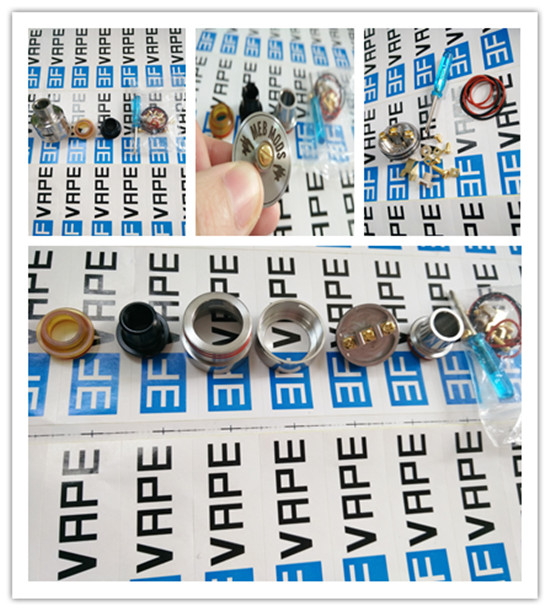 Overbuilt deck is with square PEEK isolator. All the three screws are gold plated and the negative posts are 316ss.
The second difference is the material of positive pole between the Model 8539 and Model 8402.
The positive pole of  Model 8539 is 316ss and there is replacement gold-plated pole in the accessory package, while the model 8402 has only one gold-plated positive post pre-installed.
The following picture shows these 2 RDAs, upper one is model 8539 and the other is model 8402.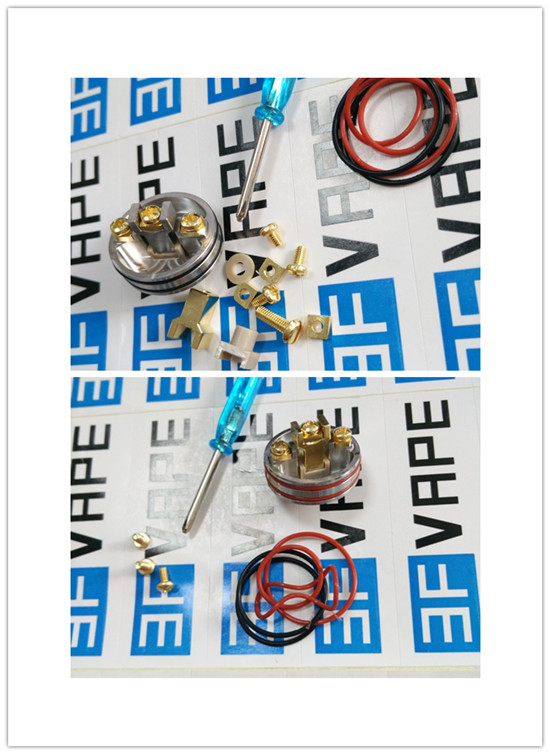 This RDA supports dual and single airflow. And the deck of this RDA is designed around common vertical and horizontal builds. The connection terminals are very innovative. It may happen to you that one foot is out the door but you have to feed your favorite atomizer with fresh coils. Going back to get another set up seems a little inconvenient. It would be great to have a little dripper that was very simple to build. You can also get great flavor from something with a tiny chamber, even without being at super high wattage. Wire connection of Atty make it possible. The M-Atty makes rebuilding so much easier. Everything about this atty deserve your purchases. I highly suggest you try to get your hands on one.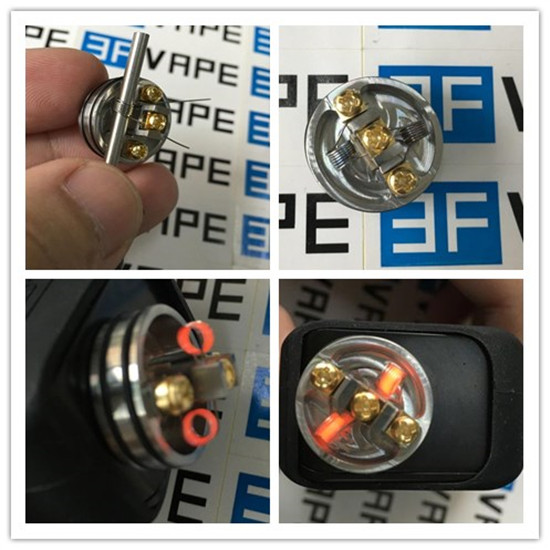 Model 8539 now available on 3FVAPE with only $14.99
Model 8402 now available on 3FVAPE with only $19.99 free shipping.
SHARING
FOLLOW US