Today I would like to introduce the Monas Style RTA which is new listed on 3FVAPE.com. This RTA is a fantastic flavor-chasing RTA.  The Monas Style RTA is constructed from 316 stainless steel and PEI tank, very small bore POM drip. The stabilized wood top ring, which comes in random  color and pattern, will show up your personality.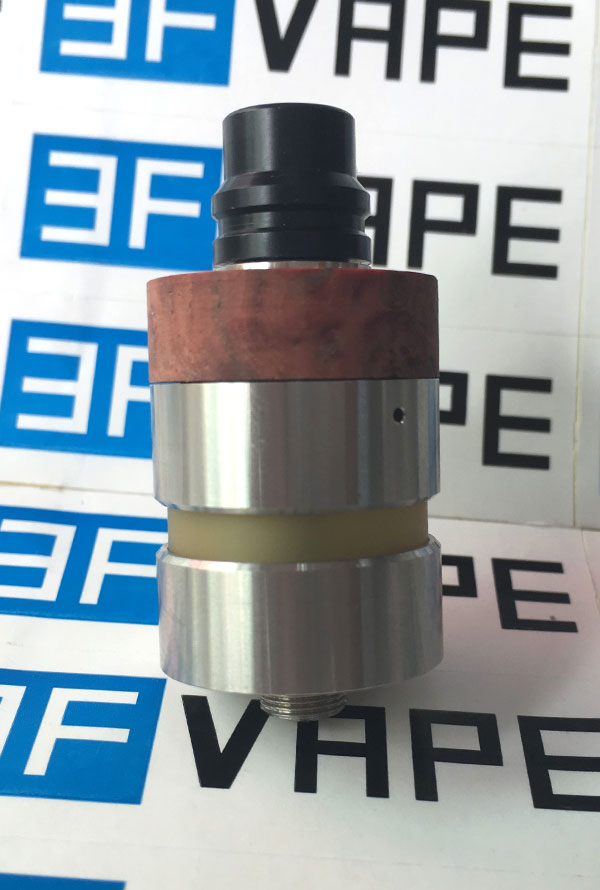 Take a look at  top and bottom side.


Take apart the Monas Style RTA, from left to right. The POM drip tip, the stabilized wood top ring, top cap, PEI juice well cap, the building deck and juice well.


I spent some time to study the air flow, there is a center post under build deck, with 2 holes open on each of the side near the juice well bottom. 2 small holes on the PEI top cap, with around 2mm diameter each holes, serves as airflow and juice feeding hole. 2 even smaller holes on each side of the top cap sleeve, around 1mm diameter. So the air comes in from the sleeve air hole then goes in through the PEI tank hole, to the center post bottom hole, then go straight up through drip tip to your mouth.
(Update on 2016.4.5) We received a message from our friend on ecig forum, telling me his opinion about the airfolw, I think he is right, this RTA is similar to most Genesis style atomisers. The airflow come in through the top cap, hits the coil, then exits up through the drip tip. Thank you for his opinion, I still need to learn more.


BTW, the PEI tank cap can be screwd onto the building deck to keep a firm connection.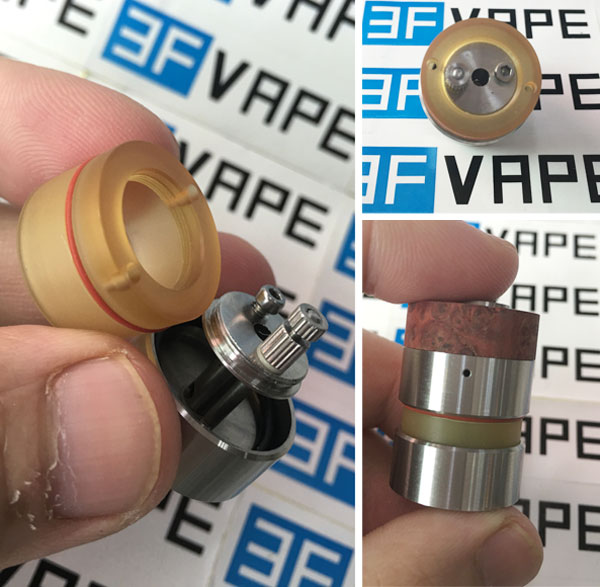 Considering this air flow design, I suggest you to use the mesh for coil building, I took my stainless steel 400 mesh here. With a 4 wraps clapton wire, ending up with a coil around 0.6ohm.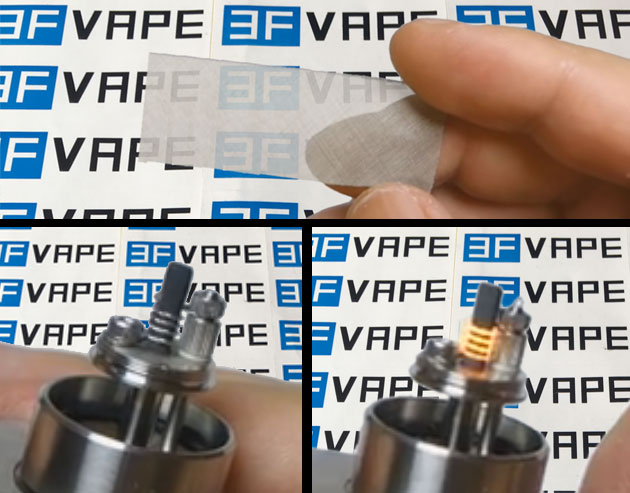 But what if we don't have mesh? So I just tried to build a cotton coil on. I here use a Kanthal A1, 22GA wire, 5 wraps, 25mm diameter, and I had a 0.35ohm coil on.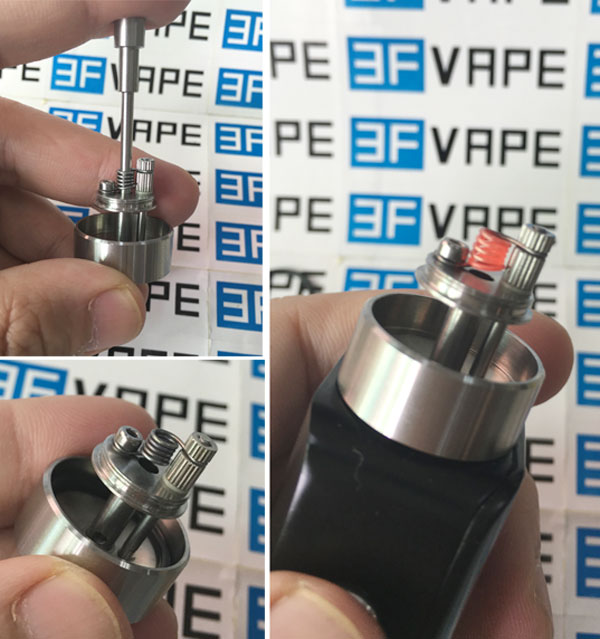 Take the cotton, in order not to block the air flow, better with a thin one, I pulled it down and get is through one hole on the post bottom, leaving another hole open. 


Screw the  PEI tank cap on and feed in the juice through the hole, I didn't measure how much juice it can hold, I am using a 5ml juice bottle and I have half juice let and I get it all in, so the juice tank may hold aroud 2.5ml juice.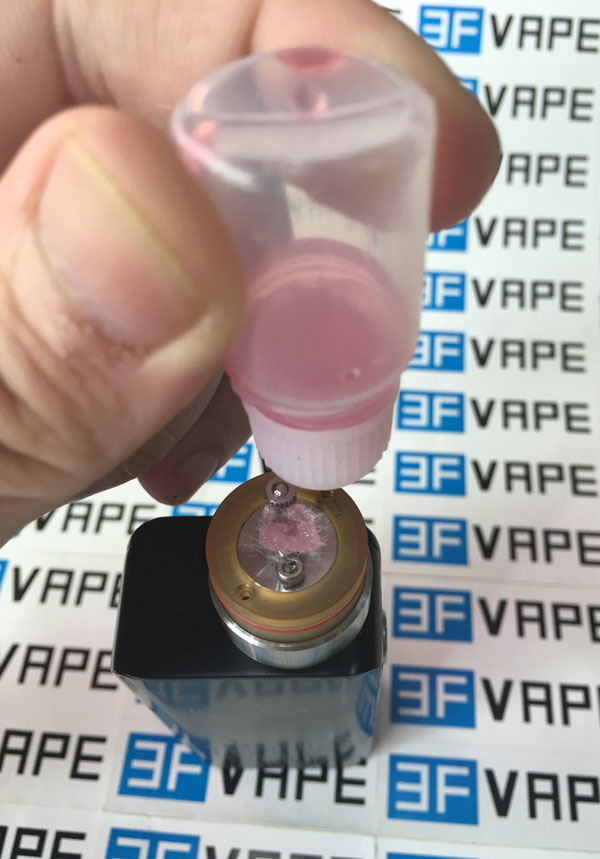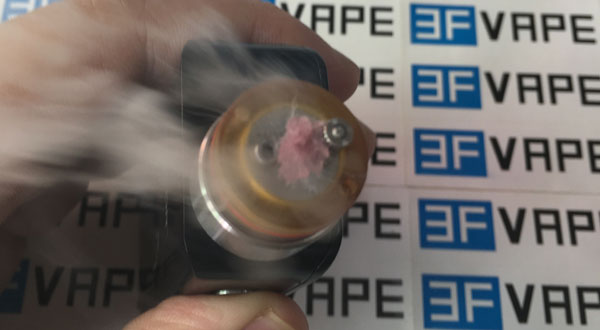 Here comes some of my opinions
Pros:
1. Fantastic taste, soft cloud in mouth. I have to say this one taste better than most of the atomizer I tried.
2. POM dtip tip and stabilized wood top ring get you off the hot stainless steel sleeve, no hot feeling for lips.
Cons:
1. Air hole is small, enough for me, but not for cloud-chaser I think. The small air hole did get the cloud generated more soft and smooth and you can taste the exact flavor of the juice. So may be it's hard to get a balance.
2. Air hole again, I wonder, if it is adjustable? And I don't konw what I can do to adjust except blocking one air in hole. But that's not I want, I want bigger air hole.
I have to say I am new on this kind of RTA and may get some point wrong, any suggestion is welcomed and I really like to share my experience with you guys.
If you are interested in this RTA, Just check 3FVAPE.com, now $30.99 available for free shipping.
SHARING
FOLLOW US